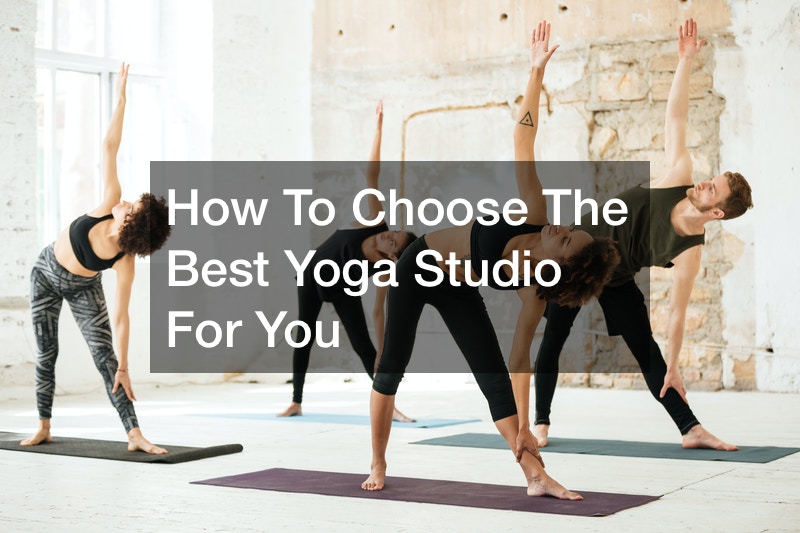 Are you trying to reduce stress? Perhaps you are trying to become more flexible or simply expand your social network. Yoga could be the solution to all these. It's relaxing and quite engaging. However, finding the best yoga studio for beginners can be confusing and intimidating. The process could make you not want to start your yoga journey. With the right studio and an understanding instructor, all your worries can be put to rest. How? Well, everything is new to you and you can easily get intimidated or even scared to try out yoga. But, once you find the perfect yoga studio, your journey to health and wellness will kick start on the right foot. Since you are already looking for somewhere to ease your mind, we have stepped in to help you with a few tips on how to find the best yoga studio for beginners.
Be Clear about Your Goals
Before you start searching for the perfect yoga studio, ask yourself what your goals are and what you want to achieve from the yoga class. There are different types of yoga classes and some are limited to certain age groups. Some of the questions you can ask yourself to help you narrow down on the yoga studio include:
I'm I getting into yoga for peace of mind or to break a sweat?
Do I have any injuries?
I'm I expectant?
What would I like to concentrate on? Strength or flexibility?
Would I like to attend the same classes every day or try something new every now and then? Once you answer the above questions, you will figure out what goals you want to achieve from this experience. You can also consult a yoga instructor based on your needs and who wants to advise you accordingly on the path you should take as a beginner.
Settle On a Type Of Yoga
There are many types of yoga and you have to make up your mind which one you want to settle for. There's no harm in doing more than one yoga class, but you have to understand your body as well as the needs of each class before enrolling. There's fast-paced and slow-paced yoga. Depending on your schedule, you have to choose a category that will complement your lifestyle. If you have a demanding job, you may want to avoid fast-paced yoga as you may not enjoy it. Settling on a type will allow you to plan your day, select the clothes to wear and plan your meals. You will also know what to expect from your classes. Knowing what you want will not only help you to choose the most suitable type but also know what to expect and what to wear.
Search Within Your Area
Although this may seem obvious, it is great to find a yoga studio in close proximity to your residence. Some even come with a waxing studio . To reap the benefits of yoga, it should be integrated into your daily life and become a habit. Habits need regular practice to be formed. There's no need to sign up for a yoga class if you are going to be struggling to make it on time or you miss some of the sessions. Eventually, you may get tired of attending the classes and have to drop out because of the inconsistencies.
Work Within Your Budget
The best yoga studio for beginners is an affordable one. There are a lot of yoga studios that offer monthly subscriptions and some have a pay per class option. Depending on your budget, you should get a class that you can afford. Compare the packages and select one you can commit to. You will find that monthly packages are cheaper than single classes. You can also subscribe to a gym membership that offers yoga classes if you are looking to get into fitness. It is a win-win situation as you get a full package and get to do both yoga as well as do your workouts in the gym.
Research
As a beginner, there are a lot of things you do not know about yoga. A little bit of due diligence goes a long way. You can ask around about the best yoga studio for beginners and get opinions on what people think about their services. Feedback from people enables you to get a feel of the services offered in the yoga studio and will help you make a well-informed decision.
You can also choose to go online and check their website and how their website design is. In this digital era, a lot of businesses have an online presence, so you will be sure to find some helpful information on the internet. Their customer testimonial videos can help you make a decision about whether it's the best yoga studio for beginners. Some of the valuable information you should be looking for includes:
Their experience in yoga training
The types of yoga they teach
Their review and testimonials section
Any events such as seminars, masterclasses that bring like-minded people together.
Their certification
Pay a Visit
Once you have researched and narrowed it down to some yoga studios you would like to join, it is important to pay them a physical visit. You will be spending some amount of time in the studio, so you want to make sure it is a place you feel comfortable and you are treated right. Some of the things to look out for include:
The atmosphere. Examine whether you feel calm when you step into the studio. Yoga is supposed to be relaxing, so if you feel there are distracting noises or you will be unable to concentrate, it may not be a good fit for you.
At the reception, examine how you are received and treated when you walk in. Is it a good reception? Some yoga studios offer their clients a custom t-shirt to welcome them and make them feel part of the class. The service you receive matters a lot. Remember that you are settling in and probably paying for a monthly package. Make sure that you feel comfortable lest you come to regret your decision because there are some things that kept bothering you but you chose to ignore them.
Request for Introductory Classes
Yoga has different types and there are different levels. Joining an advanced class could make you feel intimidated and possibly make you quit. Ask your trainer to place you in the introductory class that suits your level and move you as you advance. You can also ask for a few tryouts if you are confused about which class to join, so that you know what you are getting yourself into. Trying out different classes can give you a perspective on what to expect in the classes and help you choose a yoga studio that suits your needs. If possible, try the introductory classes with different yoga studios and on different yoga types before you settle on one.
Evaluate the syllabus
Each yoga class has a designated number of hours allocated to each session and other activities such as posture and relaxation. The syllabus will give you insight into what is expected of you and you can then make a decision on when to enroll, depending on your schedule. One of the qualities of the best yoga studio for beginners is to have a comprehensive curriculum for all levels to guide their students on what is expected of them.
Know about the credentials of the trainers
As a beginner, you may not know the level of experience expected from your trainer. However, it is imperative that you verify the experience level of your trainer before signing up. The more experience they have, the better your experience with yoga is going to be. There are a lot of yoga studios that lack qualified trainers or have little to no experience. Check for the trainer's portfolio as well as their customers to get a feel of their services.
Look For an Understanding Trainer
Yoga, especially for beginners, can be very difficult to maneuver. That is why an understanding trainer who understands your struggles and is willing to be patient with you as you make improvements is a major tip. Some trainers are in the yoga business to make some money and do not care about their learners. Choose a trainer who is dedicated to their work and handles clients with patience and understanding.
Choose a Yoga Studio that Meets Your Needs
After surveying the yoga studios available, getting feedback, and trying out a few classes, you are now in a better position to make a decision. Also consider your experience of the services received, the proximity to your house, affordability and the treatment you received. Go back to the questions you previously asked yourself. Are you satisfied with all that you have seen so far? Once you have answered them based on your experience, you will be able to settle at the best yoga studio for beginners.
To choose a studio, you must first understand what to look for and whether a studio can produce what is required. It can be challenging to choose between yoga studios if you're new to yoga. Their offers, value, and quality, in fact, are vastly different. It's important to consider what you're going to obtain from them and to have some criteria by which to evaluate them.In the United States, there are many different styles of yoga. Hot yoga is a type of yoga that is conducted in rooms that are heated above 95 degrees Fahrenheit. Yoga practitioners can pick from a variety of forms, including fitness-focused yoga and spiritually oriented kundalini yoga.
Background Check
No one is advocating spying or harassment in any way! However, learning about the yoga studio prior to attending can be beneficial. When did it first open? Is there a stated goal in place? Is there a section on their website dedicated to student feedback? Is the owner of the studio also a teacher? Inquire about the instructor or Chiropractor skills and practice. Where did they go to school and with whom did they study? How long have they been an instructor? What is their approach to teaching? Although it is not required for studios and teachers to be registered with Yoga Alliance, the non-profit is the standardizing body for yoga in America. Remember, just because the studio's marketing plan involves touting medical credentials, that does not mean the instructors have the certifications you trust.
Know What Makes a Good Yoga Studio
When looking into yoga studios, you'll want to select one where you'll feel at ease. Because getting into a healthy frame of mind is an important part of yoga, you'll want to choose a space that represents that place that feels like it gets cleaning services and visits from a professional roofer. Wooden floors, plenty of open space, easy front door access patios , and a soothing color scheme are common features of a well-designed yoga studio. When looking for your ideal yoga studio, keep your particular tastes in mind. Many yoga studios use candles, but if you're allergic to specific odors or smoke, you should avoid them or look for one with an AC installation. Additionally, if you want to practice yoga in a small space rather than a giant office building with precast concrete walls, narrow your search to studios that provide this option.
A person who discovers the perfect yoga studio for them is more likely to stay up with their practice on a regular basis. If you want to learn or practice yoga in a group, a yoga studio can offer several advantages. Yoga studios provide a safe environment for us to meet, learn, support, and celebrate one another. This is crucial for students' personal development and ultimate self-study, or svadhyaya. We need teachers who can genuinely be with us as students. It gives a consistent platform for teachers to offer their individual abilities and distinct styles. It encourages students to develop deeper, more intimate, and long-lasting relationships with them. It also provides a safe haven.